Contact
Powers of Municipal Corporation
Municipal Corporation is a territorial political subdivision of the Slovak Republic, which has governmental powers; it associates the citizens having their permanent residences within it's designated geographic area.
Municipal Corporation is an incorporated legal entity which may administer it's own property and it's own revenues under the powers conferred upon it by the law.
The self-government power of the Municipal Corporation is aimed to promote the municipality in general and to provide a range of services for the benefit of it's citizens. In the exercise of it self-governing powers, the Municipal Corporation may only be restricted by duties and limitations imposed upon it by the law and under an international treaty.
The Municipal Corporation has the right to associate with other municipalities and communities in order to achieve a common benefit.
The Municipal Corporation is independent in taking decisions and executing any acts related to the administration of the municipality and it's property and any affairs delimited under it's self-governing competency by a special law in the case where such competencies are not exercised by the state or another legal entity or natural person.
Municipal Corporation has the following bodies:
The Municipal Council
The Mayor.
The Municipal Council is a representative body of the municipality which is composed of Members elected in direct election by voters, who live within the voting boundaries of the municipality. Election is governed by a special law. The life of the Municipal Council is terminated by the taking of their oaths by Members of a newly elected Municipal Council for the next four years.
The Mayor represents the municipality and operates as it's supreme executive body. The office of Mayor is public. The office of Mayor is terminated by taking of his/her oath by a newly elected Mayor. The procedure of Mayor's election is subject to a special law.
The Municipal Office conducts organization and administrative affairs of the Municipal Council and the Mayor as well as bodies established by the Municipal Council.
Source: The Municipal Government Act of the Slovak National Council.
Contact
City of Poprad
Nábrežie Jána Pavla II. 2802/3
058 42 Poprad
Identification Particulars
Identification number of organization /IČO/: 00326 470
Tax identification number /DIČ/: 2021031144
Bank details: Všeobecná úverová banka, a.s. 24524-562/0200
IBAN: SK75 0200 0000 0000 2452 4562
BIC: SUBASKBX
Contact particulars of municipal office /MSÚ/
Municipal Office of Poprad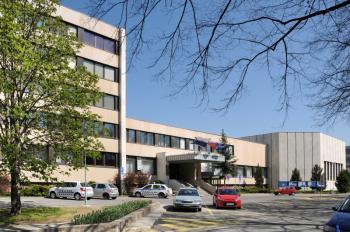 Nábrežie Jána Pavla II. 2802/3
058 42 Poprad

Telephone.: +421/52/7167111
Fax: +421/52/7721218
e-mail: podatelna@msupoprad.sk
www.poprad.sk
Office hours
| | |
| --- | --- |
| Monday | 7:30 a.m. – 3:30 p.m. |
| Tuesday | 7:30 a.m. – 3:30 p.m. |
| Wednesday | 7:30 a.m. – 4:00 p.m. |
| Thursday | 7:30 a.m. – 3:30 p.m. |
| Friday | 7:30 a.m. – 3:00 p.m. |
Published 8.4.2009
Updated 18.4.2019