Town of Poprad

The TIC is important for the town and the region in its ability to provide the residents, tourists or travelling businessmen with complex and constantly updated offer of travel trade (TT) within the scope of its services. The TIC is mainly concerned with provision of information on the town and region, cultural, social and sports events, free of charge, creation of TT offer, creation and distribution of advertising material, web presentations, and presentation of the town at travel trade exhibitions and fairs.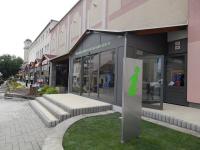 Contact

Tourist Information Centre- TIC
Mestská informačná kancelária MIK
Nám. sv. Egídia 43/86
058 01 Poprad
Infotel: 052/16 186
Tel: 052/43611 92
Tel./Fax: 052/7721 394
e-mail: infopp@msupoprad.sk
www.visitpoprad.sk
Opening hours

September – June:

Monday – Friday 9.00 a.m.  – 5.00 p.m.
Saturday 9.00 a.m.  – 12.00 a.m. 

July - August:

Monday – Friday 8.00 a.m. – 6.00 p.m.
Saturday 9.00 a.m. – 1.00 p.m.
Sunday                                              2.00 p.m. –  5.00 p.m.

TIC provides the following services to Poprad residents and visitors:
Free of charge information on:
Cultural monuments
Cultural, social and sports events
Attraction and free time options
Cycling routes in the town's vicinity
Accommodation and catering
Transportation
Institutions and offices
Services and businesses
Accommodation facilities
Access to internet via information terminal, free of charge
Sale:
Advanced sale and ordinary sale of admission tickets to cultural, sports and social events organized by the town of Poprad
Published 8.4.2009
Updated 3.2.2015